"Creating most efficient process with hot & cold forming, heat treatment, and machining"
Unytite manufactures various products for automotive industry where it is required to have the highest technology. Unytite combines the newest technology and equipment in hot and cold forming, heat treatment, machining, tapping, thread rolling, and other processes to create the most efficient process to meet the customer's specifications.

Steering Shafts
Steering shafts manufactured in Unytite, Inc. provides the latest forming technology combined with secondary processes including machining, thread rolling, induction hardening, and many more.

Propeller Shafts
Unytite, Inc. manufactures various types of shafts for the automotive industry. Involute splines and various shapes are capable of being manufactured by cold forming and cold pressing processes.

Other Products
A.T.V., Automotive, Motorcycle and other "Single Source" parts including: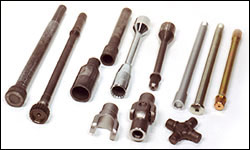 Propeller shafts
Axles
Joint prop shafts
Steering shafts
Wheel hub spindles
Ball joint and fork pivot collars
Yoke joint Blanks & Assemblies
Gear blanks
Spiders and journals
Horizontal steering sockets